Computer Vision (CV) Internship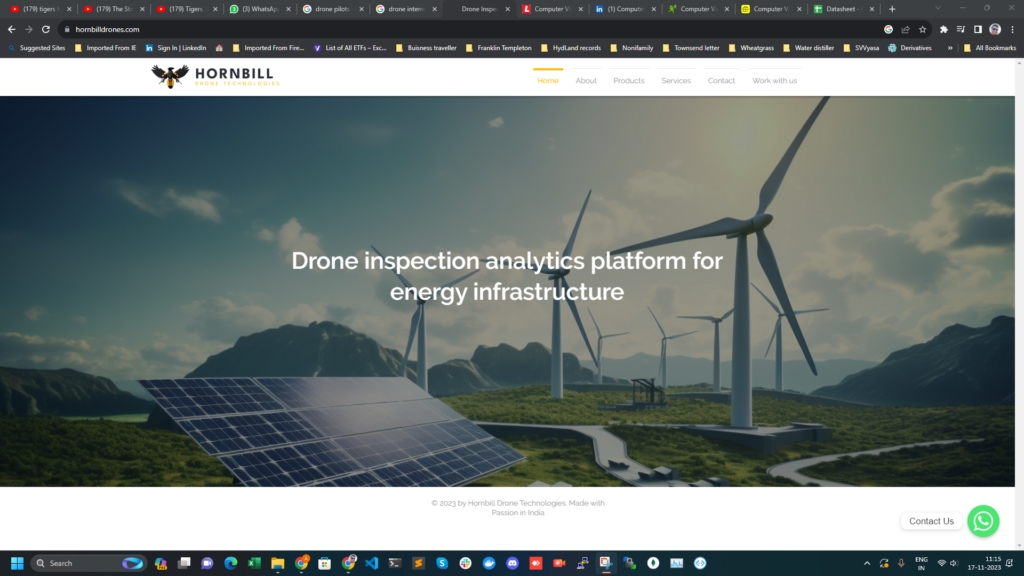 Hornbill Drones is in search of an intern who possesses a strong enthusiasm for Deep Learning (DL) and has a particular interest in developing computer vision (CV) models and deploying them on AWS.
Responsibilities:
Proficiently utilize programming languages such as Python, C++, or similar to implement computer vision algorithms.
Engage in hands-on experience with deep learning frameworks like TensorFlow or PyTorch
Demonstrate expertise in implementing computer vision solutions on the AWS platform.
Qualifications:
Currently pursuing or completed a degree in a field like Computer Science, Electrical Engineering, or a closely related area, with a focus on computer vision.
Possess a comprehensive understanding of fundamental principles, algorithms, and methodologies in computer vision, including aspects such as object detection, tracking, and recognition.
Duration: 3 months
Stipend: 15k/month
Work type: Full time (Remote)
Start Date: From 27-Nov-2023
Android Development Intern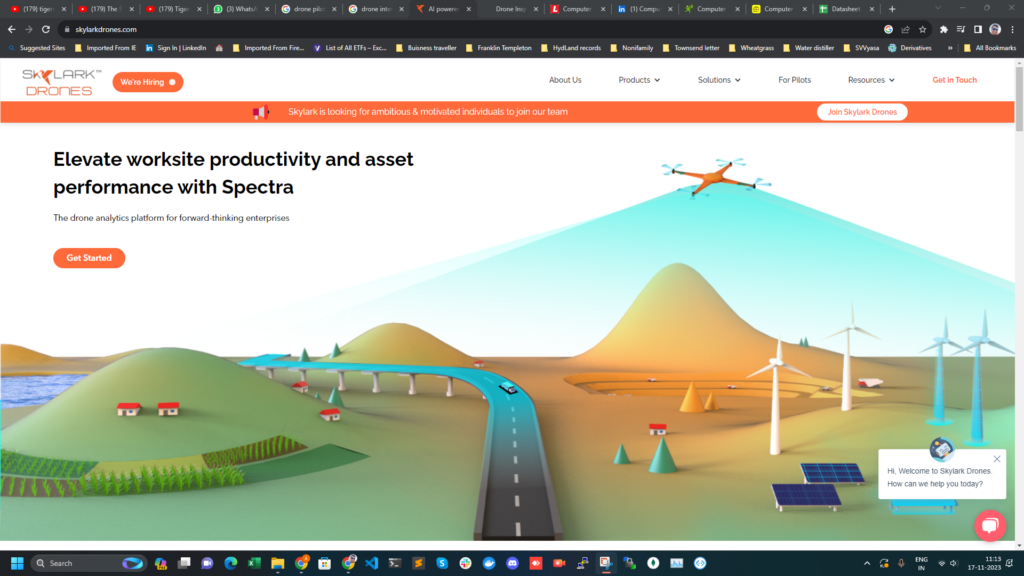 About Us
Skylark Drones is a technology company that is building the core infrastructure for the global drone ecosystem. Today, our platform empowers Fortune 500 companies with drone analytics, service providers with secure execution of flights and manufacturers with regulatory airspace compliance.
Job Description
We are looking for an Android development intern for the development and maintenance of an Android app aimed at drone pilots to execute drone flights.
You will be working along-side other mobile and web developers on the DMO team.
Drone Mission Ops (DMO):
A full-stack drone flight solution that enables drone service providers, pilots, and enterprises to execute fast, accurate, and seamless drone missions
Responsibilities 
Design and develop a highly maintainable and reliable Android app

Translate the technical requirements into high quality code.

Ensure the best possible performance, quality and responsiveness of the application.
Skillset Must Have
Hands-on experience in developing Android apps using Kotlin

Experience with networking APIs and frameworks like Retrofit, Volley, Ok HTTP, etc.

Understanding of Google's Android design principles and interface guidelines

Strong knowledge of Android SDK, different versions of Android, and how to deal with different screen sizes.

Proficient understanding of code versioning tools like Git Good to have

Familiarity with Java

Experience with the Mapbox Android SDK or any other mapping libraries
Skylark Drones focuses on Solar, Agriculture, Utilities, Minerals, and Infrastructure Monitoring.
Their company has offices in Bengaluru. They have a small team that's between 11-50 employees. To date, Skylark Drones has raised $3M of funding; their latest round was closed on July 2021. You can view their website at http://www.skylarkdrones.com or find them on Twitter, Facebook, and LinkedIn
Beegle Agritech is Hiring Drone Pilots and Co-Pilots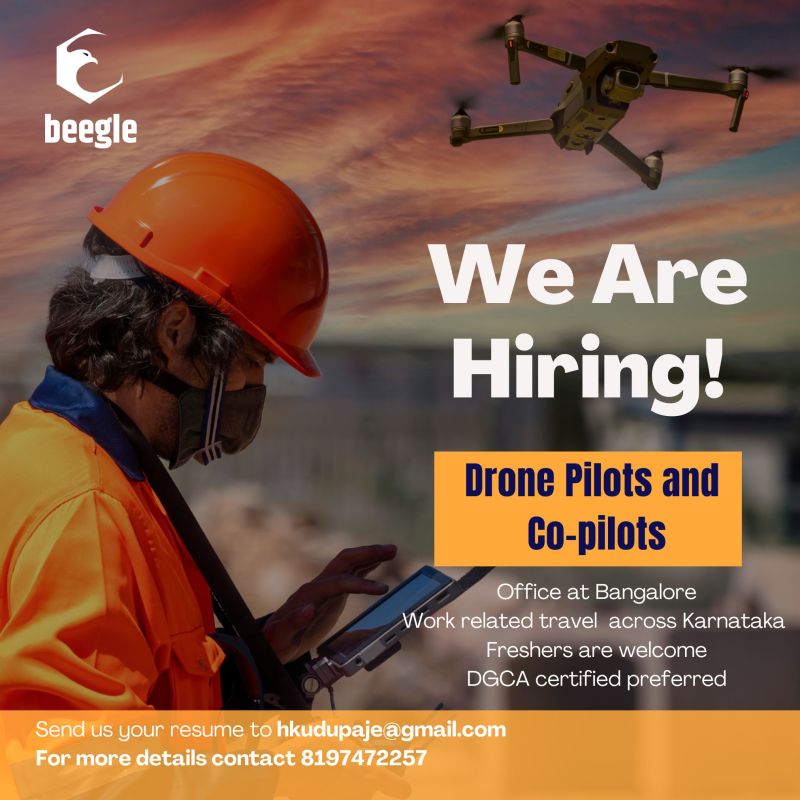 Role Description:  
We are looking for dedicated Drone Pilots to operate drones for data collection across various regions in Karnataka and beyond. This role is pivotal in our mission to harness technology in revolutionizing agriculture and allied sector. Prior experience is not mandatory, as we value dedication and the drive to learn.
—
Key Qualifications:
Certification: A valid DGCA-certified Drone License is essential.(Small Category) ;
or Extensive projects related to Drone/UAV (Flying, Research, Product development); and 
GIS with any prior relevant experience in the field (Image processing, Remote Sensing, Drone Data Processing and Analysis, QGIS)

Language Proficiency: While proficiency in Kannada, English and Hindi would be advantageous, it is not a strict requirement.

Driving Skills: Ability to drive a vehicle is added advantage. 

Travel: A willingness to travel extensively across the state and potentially beyond.(Facilitation will be taken care)

Experience: Drone flying experience across diverse regions, terrains and conditions would be beneficial.
For Those New to the Field:  
We encourage fresh graduates or individuals new to the industry to apply. We value potential as much as experience.  
—
Compensation:  
Salary and benefits will be discussed during the interview process.
—
Work Location: We are based at Banshakari, Banaglore
The job requires travel across various region in Karnataka and Beyond as per Projects.
Travel and other facilitation will be looked after by the organization.
—
Application Process:  
Interested candidates are requested to forward their resumes to hkudupaje@gmail.com.
For more details contact: 8197472257
www.beegleagritech.com
#hiring #dronepilots #UAV #GIS #QGIS #Imageprocessing #uavpilots #bangalorehiring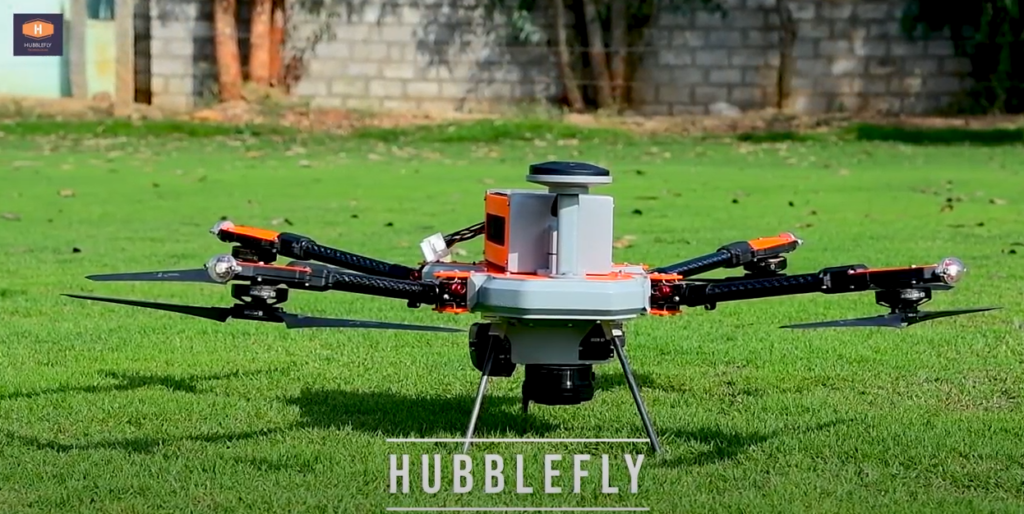 Role Description
This is a full-time role located for an Agriculture Drone Pilot at Hubblefly Technologies.
The drone pilot will be responsible for operating agricultural drones for spray purpose.
The role will require the candidate to lead his team and he also responsible for the maintenance and upkeep of drones.
The candidate must also possess excellent technical and mechanical skills to troubleshoot and service the drones in the field.
Qualifications
Drone operations with a minimum of 6 months of experience operating agri drone
Excellent mechanical and technical skills for the maintenance and upkeep of drones
Ability to work independently and lead a team efficiently
Strong communication and interpersonal skills for effective collaboration with cross-functional teams
Flexibility to work extended hours, depending on the client's needs
Knowledge of safety procedures and regulations related to drone operations
Immediate joiners will be preferred.
Website: https://www.hubblefly.com/
Email CV to: careers@hubblefly.com
Director Drone Operations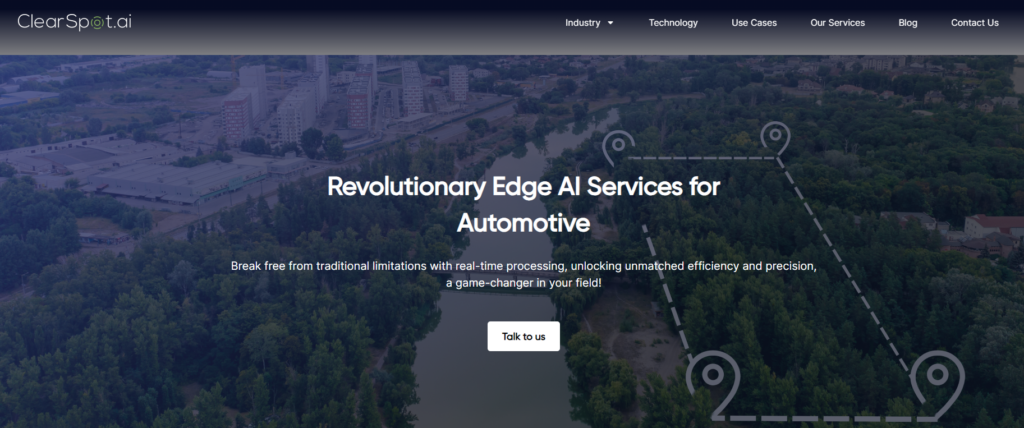 About the job
Company Description
ClearSpot is developing cutting-edge Edge AI technology with a particular emphasis on computer vision. Our localized processing empowers devices to analyze and interpret visual data on-site in real time, enabling customers to make informed decisions without the latency of cloud-based systems. Our technology has diverse applications and can be used anywhere from real-time quality assurance on manufacturing lines to advanced anomaly detection in remote infrastructure. Our services are designed for minimal latency and maximum efficiency, even in environments with limited connectivity.
Role Description
ClearSpot.ai, a leading-edge edge AI technology company, is looking for volunteer drone pilots to test our new technologies for free! This is a remote role, and it involves testing our Edge AI and computer vision solutions with drones to capture and analyze visual data. The drone pilot will work with our engineers and data scientists to help develop, refine, and optimize our software to quickly and accurately analyze real-time data.
Qualifications
Experience with drone operation, maintenance, and troubleshooting
Familiar with flight planning and mission execution
Experience with cameras and sensors used in drones, including FLIR and RGB cameras
Experience with data analysis and proficient in Excel or Google Sheets
Exceptional attention to detail and ability to work independently or in a team environment
Excellent communication skills
A willingness to volunteer time and contribute to testing new technology for free
Bachelor's degree in engineering, computer science, or a related area is preferred but optional.
Apply on LinkedIn
https://www.linkedin.com/jobs/view/3761025583/
Drone Pilot Instructor - RPAS Instructor

About the job
Defy is an R&D, manufacturing, and operations company introducing State-of-the-art drone technology as its first suite of products that is rooted in the idea of protecting human lives.
We are looking for a self-motivated and passionate individual, with a strong desire to learn and an immense amount of self-discipline. This position is for a Drone Pilot Instructor with Defy Aerospace.
Responsibilities:
The Drone Pilot Trainer will have holistic responsibilities in terms of training young pilots including rural women. Hence, correct aptitude for training is paramount for this job.
• The trainer shall ensure that the Remote Pilot Training is conducted as per the syllabus and in compliance with the Accepted/Approved TPM.
• Establish training plans for remote pilots
• Develop courseware material, as required
• Deliver classroom and on-the-job training
• Issue and update the relevant documentation (training manuals)
• Participate in rule-making activities
• Operate as remote pilot on demand
• To ensure UAS operations are conducted in accordance with the extant Acts, Rules, Circulars, and Guidelines.
Eligibility:
• The Drone trainer must be a DGCA Certified Drone Instructor – the instructor should have successfully undergone DGCA approved trainer program on the appropriate category and class of Drones
• The Drone Trainer must have knowledge of the Drone Pilot Training syllabus as prescribed by the DGCA, and procedural guidelines for classroom training, simulator training, and flying (daytime and night) training
• An Engineering or Science graduate or a graduate in any discipline
• Should be capable of designing new courses according to given requirements
Preferred Skills:
• Excellent communication and reporting skills
• Computer skills
Experience:
• Experience as a Done trainer with an RPTO or aviation organization.
• Experience with simulator training for UAV pilots
• Drone-specific aviation safety experience
• In-depth understanding of DGCA rules and regulations
Salary: